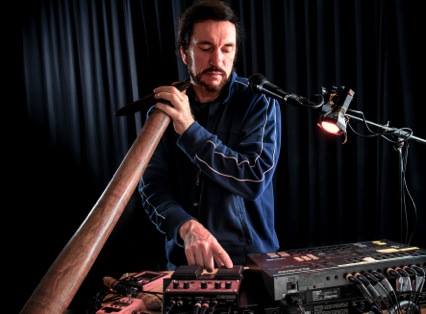 Australian didgeridoo and ancient aerophone experimentalist Phil
Conyngham (DidjMasterPhilth) will make two rare solo appearances at the Medusa in Gaarden.
Phil played regular shows in Kiel between '93 and 2003 both solo and with several groups from Ireland and England.
Conyngham continues to work as a player, producer and educator with Australia's premier Aboriginal dance group Koomurri (https://koomurri.com.au) as well as with longstanding projects with Irish based musicians Simon and Maria O'Dwyer (Reconciliation/www.ancientmusicireland.com) working with reproductions of prehistoric musical instruments including Irish Horn's from 800BC.
Mixing both virtuoso improvisations on these ancient wind instruments in tandem with various 'electronic devices' under his current moniker 'Shadow Of the Voice' Phil continues to push the boundaries of tone, timbre and technique."
His shows will be filmed by local filmmaker Jens Kramer and will be included in a forthcoming documentary about Phil's first shows in Germany. It will feature early '90's concert footage and interviews with local musicians who were fascinated by the then little known Indigenous Australian musical instrument, Didgeridoo or 'Yidaki' (one of it's many traditional names).
As well as other Kiel based artists such as Filmgruppe Chaos (www.filmgruppe-chaos.de) who collaborated with Phil during this time.
Entry is free, we´ll pass the magic hat !